Play Blackjack Online
Blackjack is by far one of the most popular and played card games in the world. It is the game of 21, and the best part about it is that it is extremely easy to get the hang of no matter which variety you go for.
Online Blackjack Variations
Blackjack can be played both against a computer in various formats but the modern live dealer games are taking over, offering a much more lifelike experience and a human touch to the game. After all, it is much more satisfying to beat a human than a computer, much as it is easier to take a loss against an empathic dealer than a cold calculating machine. And remember, a blackjack dealer's actions are always dictated by the rules of the game, so don't blame them for a bad run.
Many online casinos run daily and weekly blackjack competitions with hefty prizes to be won, so look out for those to increase your winnings. It is also becoming popular to have special cards shuffled into the decks, which when drawn by a player will result in a bonus win or other prizes. Just as it is with online roulette, there are numerous variations of the game when not playing against live dealers.
This might be all fun and games if you're looking for a different experience, but there's a reason why blackjack rules have remained unchanged over the years and why it is considered one of the undisputed classics alongside roulette.
The Rules of Blackjack
The rules of online Blackjack are simple and fun to learn, unlike other table games there are not as many rules although there are definitely a lot of tips that would be useful to learn and we will get into that soon enough.
Blackjack is played with one or more standard 52 card decks, and cards 2-10 are worth their face value. The higher value cards are Kings, Queens and Jacks which are worth 10, and aces can be used as either 1 or 11.
The number 21 comes into play because the aim of the game is to not have an amount of cards worth over 21. The closer your deck is to 21 the better the chances are for you to win. The first two cards being a 10-value card and an Ace is called blackjack.
The gameplay begins when you and your fellow players have placed your bets on the table, and this is done by stacking chips into the betting square. Once all bets have been placed and the dealer declares that all betting has closed, each player along with the dealer is given two cards, and this is where the game of blackjack begins.
Double Down, Split, and Insurance
Players will then decide how to play their hands, and this is where knowing some online blackjack strategy could help. Once the dealer has given out the 2 cards, you will be able to choose whether to add more cards called 'hit', or stay as you are, which is called 'stand' and you will draw no more cards which means you felt as though you are closest to 21.
You can also choose to 'double down' which means you can double your original bet and receive one more card, you can also 'split' which means if your first two cards are the same you can make a second bet the same amount as your first bet and split the pair using each of your cards as the first card in a separate hand.
Last but not least, 'Insurance'. If the dealers faceup card is an ace, you will be allowed to take insurance, and this means that you have take a side bet on that the dealer has a 10-value card down to complete a blackjack. The size is half the original wager, which means that if the dealer hits a card valued 10 the player will break even. If the dealer doesn't hit it the game round proceeds as per usual but the side bet will be lost, no matter the outcome.
Statistically, taking the insurance is almost always a bad bet. But there will be situations when it might be worth taking a shot at; a table full of low cards, including your own, will imply that there are a lot of 10-value cards left and one might give it a go; conversely, if the table is full of 10-value cards it will be less likely that the dealer will turn one up. Players will of course also need to take their own hand into account - they will be up against a dealer with an ace even if the dealer doesn't hit 21, and will in many situations be at a disadvantage just because of this.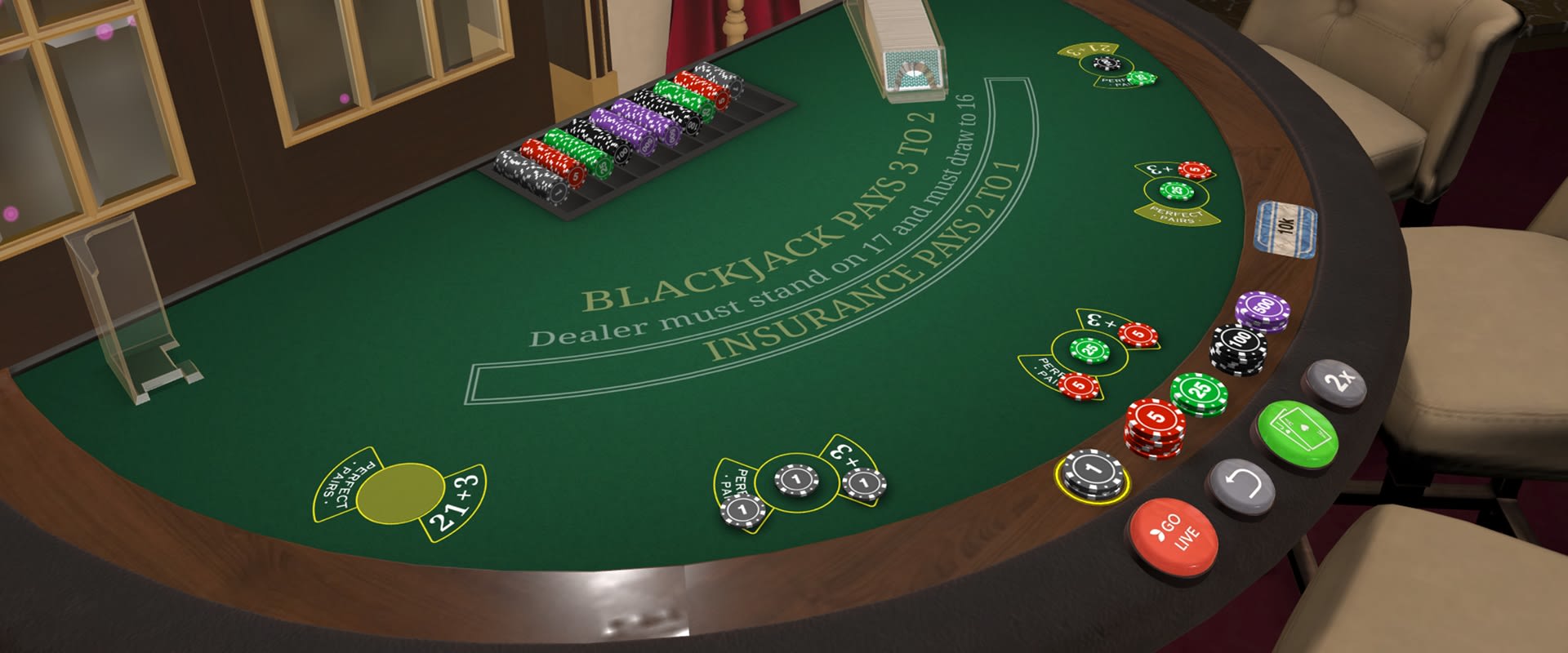 Perfect Pairs & 21+3 Side Bets
The 21+3 side bet is available at some tables. This will give you the chance to win if your first two cards AND the dealer's open card make up any of the following combinations:
Perfect Pairs is another popular side bet, but does only include the player's first two cards. Any pair, same colour pair, and suited pair will usually pay differently. Always consult table rules for local variations and payout tables.
Live Dealer Blackjack - the Best Way to Experience the Game
Live dealer casino games are becoming increasingly popular and more and more players are looking to play blackjack with a live dealer. All you need is your mobile device or desktop, a working internet connection and off you go. With live dealer blackjack you will witness a stunning HD quality streamed game, with the dealers assisting you and being present in realtime. There is nothing different about online live blackjack and being in a real casino other than the fact you are at home, it feels just as real, and just as exciting.
The reason why many players opt for live dealer blackjack is because you get more of a feeling that you are in a land based casino, and you are able to interact with the dealer as fast as it would be in real life which is really exciting. There are a few tactics and strategies you can learn in order to make your playing top notch with online blackjack, but other than that it's pretty easy to become a pro and beat the dealer.